Trader Joe's Paneer Tikka Masala with Spinach Basmati Rice Review
Subscribe to our food YouTube channel!!
Trader Joe was actually a real guy once, believe it or not. He setup shop with Pronto Markets in the late 60's, but after realizing that 7-Eleven was the Muhammad Ali of convenience store chains and his would probably end up like any of these guys who Ali knocked out, he decided to get back to basics and just call the place by his own name. Then, in the late 70's, the Aldi guy bought it from him.
One of our readers recommended we take a look at his Paneer Tikka Masala with Spinach Basmati Rice after the similar dish from Amy's was featured on Midnight Snack. Apparently, Paneer is "a type of curd cheese used in Indian, Iranian, and Afghan cooking," which was news to me. Unless that was looked up last time and I got hit in the head since the Amy's review.
Either way, take a look at this packaging:
I really had my hopes up for that naan off to the left to be included with the paneer, but hey, we can't have everything.
There's definitely something about that green packaging of the paneer and bordering that makes it seem like a person's getting it from the local Indian restaurant.
It has a solid spread of macros, including about half a person's daily saturated fat, so, that might raise some alarm bells with people. Low sugar's good, carbs are good, and there's some nice protein in there.
The turmeric, basmati rice and garlic are only a few of the things in this meal that make it worthwhile. Ghee? I made sure to clarify that for ya if you weren't familiar.
Made this one in the old Microwave. It looked purdy good in its frozen casing outside the box.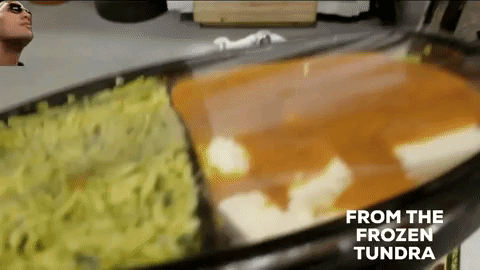 I wonder if the paneer cubes in mine were made in the same place as the Amy's.
Maybe they were, maybe not. Anyhow:
The Review
Let's get a side by side of the picture on the back of the box and the actual finished product:
To be fair, the way this picture was taken was a little like what the tabloids do when they catch celebrities off guard with their bad side showing.
This had a little more spice than the Amy's, which was a nice change.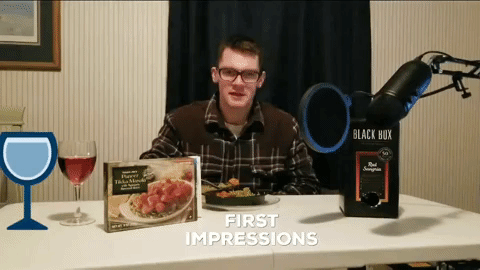 The spinach basmati rice was cooked really well, I'd go as far as to say al dente. Unless that word's off limits if the food's not Italian. As mentioned, the Paneer Tikka Masala had a bit of spice to it. That was enjoyable for my buds of taste. The Red Sangria was about as sugary as last time, it's starting to feel like the red Gatorade of wine.  This is something I would certainly buy again, but maybe experiment with baking it next time to see how that works out. I was a little salty that it didn't actually come with the ceramic plate or naan bread pictured on the front, but I've since calmed down enough to not knock it too much for that.
Recommend? Yep.
Midnight Snack Rating: 8.065/10