Make Money Online: 67 Places And How To Do It
Make money online. Work toward being financially independent. We all want it.
That's why we brainstormed a list with a handful of online ways that anyone can make money online.
Especially students, who can rake in some extra cash with their phone or computer. Just find an internet connection and a little creativity.
Updated 7.25.2022
Advertiser Disclosure: This article contains affiliate links. That means we receive payment from certain companies on this list if you sign up for their service.
Make Money Online Blogging
The great thing about blogging is that it's super cheap to get started. It can be a serious way to make money online.
You can even try out writing on the internet with sites that have payment systems. A few have wide-ranging content offerings like Medium to dip your toe in the water.
The best thing to do, though, is owning your own website. If you want to get into blogging long-term (and make money online).
Think of it like owning physical property, your blog becomes an asset that will grow over time. The more you work on it, the more valuable it becomes. Then, you could eventually sell it or just enjoy having the extra income.
It might seem hard to believe, but it's possible to make up to $200,000 a year with any blog in any area.
If you think that you could produce consistent, value-added content on a subject you already like, then this would be for you.
The most cost-effective way to get into blogging quickly is by downloading WordPress and getting the free Yoast SEO plugin.
Before you do though, you should make sure you have at least five or six articles finished. Write them in a word processing program so you could start posting.
Then, look for a solid web host. Both Siteground (affiliate link) and Bluehost (affiliate link) are great choices for people who are just starting out.
Your total cost for getting a blog setup is relatively low. Using Bluehost, their intro package is $3.95/month the first year. Using Siteground is also $3.95/month in the first year.
On Siteground, you would be purchasing your domain name up-front instead of getting it free. It's free in the 1st year through Bluehost. That will cost about $15.95 per year.
According to a comparison by Website Tool Tester, Siteground comes out on top in terms of performance
Think you want to give blogging a try?
Click for the WordPress download here (free)
The Yoast download's here (also free).
Click here to check out Siteground.
Check out Bluehost here.
If you want to dabble in setting up a full-blown WordPress site offline (for free) just to see how easy it is to get going and start posting, click here to learn to do that.
Make Money Online Podcasting
The podcasting industry is blowing up right now. A quick Google search of "which podcasts to listen to" will now yield more results for listening than you would probably have time for in your entire life. The best part is how easy it is to start your own and make money online from it.
PodBean
PodBean is a hosting service that offers a free entry level plan for people who want to give podcasting a try. Using their Basic plan, you can get a ton of benefits like your own podcast site, 100 gig's of monthly bandwidth, and a lot of free themes.
Click here to check out PodBean
Make Money Online with Delivery Apps
There have been a number of services out there where a person can sign up with their smartphone and easily become a delivery driver. If you decide to do this, please, for everyone's sake, DO NOT sample the food when you're delivering from places that don't seal the bags. Please.
They are another way to make money online through your phone. Let's look at a few of them.
Door Dash
Door Dash is a service that partners with local restaurants to bring their tasty food straight to people who don't want to leave the house. It's pretty easy to sign up as a DDD (Door Dash Driver?) if the service is in your area.
Dashers typically earn between $15 and $25 per hour and mainly deliver from chain restaurants.
Click here to sign up for Door Dash.
Caviar
Now a subsidiary of Door Dash, Caviar is an online food delivery platform that delivers from fancier restaurants. If you want to get into delivering with them, their site touts that you can get paid instantly on delivery and make up to $25 an hour.
You will need to download Cash App in order to receive payments. This can be a decent way to make money online.
Click here to check out becoming a Caviar courier.
Post Mates
Post Mates boasts a slightly wider scope of offerings than than Door Dash, saying that they can do "food, drinks and groceries."
As of July 2018, they have expanded into 100+ cities, making them, well, pretty accessible to most people who want to drive for them.
According to CEO Bastian Lehman, the median earning during peak hours is $19. The average wage, though, may be rounded off to around $9.23/hr according to this Ridester article.
It can be a great way to money online if you absolutely need some and it's a sink or swim situation.
Click here to sign up for Post Mates.
Grubhub
Nothing like some hub of the grub once in a while, right? According to USA Today, drivers for GrubHub usually make about $12/hour. This is one of the biggest companies out there for food deliveries.
Through their merger with former competitor Seamless, the services from their company are now in many major cities so more people can use it to make money online. Here's what some drivers have to say about working for them:
Not sure if it should be a concern that comments are turned off on YouTube for that one, but here's an honest review, too:
Bottom line: It's a good way to develop some side income. Some people will even do it full time, but considering that the company's promo video itself has people plugging the service as a good side income, it's best to put this in the "in-a-pinch-need-cash-now" pool of options.
Click here to check out GrubHub.
Make Money Online with Rideshare Apps
What would a guide about how to make money online be without mentioning Uber and Lyft?
These two services have become synonymous with the term "side hustle" for a reason. Now that most anyone can turn their car into a money making machine, they can make some side money getting people from point A to point B.
Uber
According to Business of Apps, there are 75 million Uber passengers out there waiting to be picked up. For those 75 million, there are 3.9 million drivers out there to give them a…..lift. Can I say it like that?
The average Uber driver's income is $364 dollars per month, so you could make a nice chunk of side change doing this, provided your car meets the requirements.
Be wary, though, that the median hourly rate can also dip to $8.55 per hour. Another way to potentially make money online.
Click here to sign up for Uber.
Lyft
Quickly gaining ground on Uber, Lyft is the second most popular ride-sharing app in the United States that people rely on. The average Lyft driver's monthly earnings are between $364 and $367 dollars.
According to Lyft, their drivers see an average of $18.83 per hour nationally. Their median wage can, however, drop to $8.55 per hour like Uber.
Click here to sign up for Lyft.
If you do decide to get involved with this type of side hustle, make sure that you first understand the risks involved and potential insurance issues created by making your car a taxi.
For example, during the period when you sign into the app and pick up your first rider, there is no coverage for damage to your vehicle.
Even when someone hits you and the accident is their fault, you're out of luck if they don't have insurance and your vehicle sustains damage.
Selling Things to Make Money Online
Ever since about 1991, it's been possible to make money online with your stuff. Here are some of the biggest websites for doing just that.
Physical and Digital Products
Amazon
Every year, about 50% of all sales on Amazon come from their third party seller network. 200,000+ of those small businesses made an average sales revenue of $90,000 in 2018, according to the company's 2019 SMB Impact Report.
What does that mean for you?
It means that even if you don't have experience selling online, there's plenty of opportunity for you to make an extra one, two, three hundred bucks a month there.
While 200,000 people are making the kind of money mentioned above, there are even more people who are turning things that they don't use anymore (but someone else would) into green.
The company even launched a website in 2019 called "Build Your Business with Amazon" for getting people ready to succeed in their marketplace.
Click here to sign up to sell on Amazon.
Ebay, one of the oldest ways to make money online.
While Amazon is a great place to dip your toe in the water to make money online, Ebay can be even better. It's almost like a giant garage sale. You can put out almost anything on their marketplace, from old credit cards to food. You will want to double-check their restricted and prohibited items list, but, you can probably sell that one-off item for $78 that can't fly on Amazon.
Ebay provides an easy to use interface for finding the product you want to sell (before you even setup an account) and helps drill down to the specific details you'll need.
Click here to sign up and sell on Ebay.
Etsy
This is the place to be if you handcraft your own products or have something awesome and vintage that you might want to make money online with.
Etsy charges $.20 per item listed on the site
Setting up a shop is free
They claim 5% of the final sale for each item
According to Smart Money Mamas, the median shop on Esty brings in $291 of profit per month. While it probably isn't the place to rely on for a full-time income (even if a person working a regular job with kids pulls in $5000/month) it can be an awesome place to make money from your creative hobbies or extra stuff.
Click here to open your Etsy shop.
Gumroad
Gumroad is the creator's dream marketplace. Do you build software? Make comedy videos? Make animations? If you answered yes to any of that stuff (or didn't, but still make anything that could be sold) then Gumroad is right for you.
Click here to start selling on Gumroad.
ZenArbitrage
Have some books to sell? Zen Arbitrage can help with that. Their platform can help you build a solid income buying and re-selling books on Amazon.
Click here to sign up for the Zen Arbitrage free trial
Shopify
Shopify just kind of gets it. Between their ability to integrate with 2,500+ apps for more ways to sell your products and a really easy-to-use interface, this is THE best eCommerce platform for folks just starting out. This is a solid choice for stores doing up to $10 million in sales, so, you can build a bustling business all on this platform.
Listen to what this guy built on Shopify after reading the Tim Ferriss book, The Four Hour Workweek. Seriously, anybody can do it if they have something that can be sold.
Given the increase in eCommerce spending during the Coronavirus pandemic, starting an online store with Shopify is a phenomenal opportunity to make money online.
Click here to check out Shopify.
Craigslist
While Craigslist doesn't look like it's changed at all since it was started back in the 90's, there still aren't many sites as good as this for selling your stuff locally. You can list anything from used cloth diapers to that old pickup truck you fixed up from the scrap yard. Please wash the used diapers first.
Click here to check out Craigslist.
Shapeways
Shapeways.com provides an online marketplace for listing your 3D designs and selling the actual printouts to people who buy them (Shapeways prints the designs). The biggest opportunity for prospective inventors and designers isn't even listed online with their website, though.
That's coming next in the list of ways to make money online.
Click here to visit Shapeways
Inventing Products to Make Money Online
A company called AutoDesk offers free access to their enterprise design and engineering software for hobbyist businesses earning less than $1000 annually. You can't start a consulting business with this, but, if you have ideas for products, designs, etc, that's what it's meant for.
Bigger than $1000 annually?
If you grow past $1000 annually, they have a plan for startups generating less than $100,000 per year in revenue. You do need to apply for that one, but, it's also free. Students and educators can also get a free 3 year license with their .edu email address. From first hand experience, I can tell you right now that anyone can learn how to use Fusion 360 in a few hours with the great YouTube videos they make for absolute beginners:
Personally, I was terrible in geometry!
But, even I figured this out pretty quickly to try building a prototype I had an idea for. You could take ideas for products, widgets, you name it – and create them for free.
Then you can list them online with Shapeways and make money online when people buy them. The site takes a percentage of your sales in return for listing designs and they let you know what the materials will cost so you can decide on the price accordingly.
Click here to check out the hobbyist license
For the the startup license, Click here.
Click here to check out the student/educator license
Selling Services to make money online
Fiverr
Fiverr is one of the top websites for marketing your freelance abilities to make money online. Although it was temporarily criticized by the Better Business Bureau and received an F rating, they are now sitting at a solid B with the BBB.
Despite their name, there is no longer a five-dollar base price due to criticisms from professionals shortly after launch. Want to showcase your professional skills and jump into the gig economy?
Click here to sign up for Fiverr.
Upwork
Upwork is the largest freelance marketplace in the world and the online company has been around since 1999 under different names. It allows you to seamlessly sign up and start looking for talent or showcase your own abilities to get hired for someone else's project.
Click here to try Upwork.
Proofread Anywhere
Proofread Anywhere isn't a platform for selling services. It is, however, a site for getting online education to prepare someone for work as a freelance proofreader and make money online.
They routinely publish success stories and lists of people who are actually making a full-time income from work found after completing the courses.
These 9 proofreaders are making a full-time income online and The Penny Hoarder did an in-depth review with this woman who transitioned to the work from an unfulfilling day job.
Click here to get started for free with Proofread Anywhere.
Transcribe Anywhere
Transcribe Anywhere is an online educational service for people who want to get into the freelance transcription business for themselves.
This site will prepare you for becoming either a legal transcriber or a general one.
People can be ready to get hired in as little as 2-4 months after completing the courses, earning anywhere from $15-$25 per hour depending on experience.
Users who buy either course will have access to it forever with all updates included, plus the support from a strong Facebook community of other transcription students. If you want to dip your toe in the water, it's free to take one of their mini courses.
Click here to try out their free general transcription course.
Click here to try out their free legal transcription course.
Online Surveys
Online surveys are awesome because all you need to do is sit back, throw in some earbuds, and start flying through them. Working on these can be done when you're lounging around relaxing and can be a great alternative to just mindlessly scrolling Facebook (and you can make some money online!). Here are 8 sites worth checking out:
Survey Junkie
People can make between $1 and $10 per survey through Survey Junkie's platform. Their average review on TrustPilot is "Great" out of 11,300 reviews. Not bad!
Click here to check it out.
Swag Bucks
Through Swag Bucks, people can do "every day things, like watch videos, answer surveys and search the web" and be compensated. Users can either receive their rewards as gift cards to a number of retailers or straight cash through PayPal. Their average review on TrustPilot is "Great" out of 13,911 reviews.
Click here to check out Swag Bucks.
Opinion Outpost
Similar to the last two, Opinion Outpost runs on a point system. Users answer questions and are rewarded with either gift cards or cash. Their average review on TrustPilot is "Great," however, out of 1,436 reviews, about 586 (as of writing this) are listed as "bad experiences."
Our guess is that with any type of thing like this where anyone can just sign up to make money, there will likely be a handful of people trying to game the system who get angry if it doesn't work.
Click here to check out Opinion Outpost.
Pinecone Research
Pinecone provides you with surveys on products and services before they hit the market. They might ask you about anything from cash, music, movie tickets, health & beauty, sports & recreation, and electronics.
Their platform is run by Nielsen, one of the biggest (and voted #1 in 2018) market research firms. Their average review on TrustPilot is "Great."
It looks like most of the bad reviews are just from people who didn't fit the criteria for being surveyed, while the majority are positive.
This could be a solid choice to make some money online.
Click here to check out Pinecone Research.
Inbox Dollars
Not only can you write surveys with inbox dollars, but you can also watch videos, play games, and even shop online.
Their site boasts "Over 56 million in cash rewards paid" and has a rating of "Great" on Trust Pilot out of 7,179 reviews.
Click here to check out Inbox Dollars.
My Points
While My Points touts that their main source of earning is through shopping, their platform also offers surveys, reading emails, sharing opinions and a handful of other stuff.
Their Trust Pilot rating is "Great" out of 4,367 reviews.
Click here to check out My Points.
Point Club
Point Club brands their platform as "the BEST place to EARN CASH taking online surveys." They offer a $5 sign up bonus on their site for people, or "survey superhero's" as they call them, who sign up.
The site operates in over 90 languages, allowing people all over the globe to make a few extra bucks.
You can earn over 150 different types of cash and gift card options with their site. There's undoubtedly something in there that you would want (if not straight cash).
Click here to check out Point Club.
Tell Wut
Tell Wut does things a little differently in that they show a bunch of their surveys on the main homepage of the site.
It seems like this site might be a little older, but as that imperial flight technician in Star Wars said, "it checks out."
They also have a unique contributor model where users can take surveys and also create their own for earning rewards. They offer a handful of different rewards, including a Visa gift card so you can spend it wherever.
Click here to check out Tell Wut
The Takeaway On Surveys
These can be a great way to make money online by fitting them into your spare time. Be aware, though, that you may not necessarily qualify. Don't take it personally and go write an angry review if these aren't your thing.
One common negative review that did seem to show up with every company was that their videos all seemed to crash a lot, so, maybe skip the video surveys.
Submitting Content Online
Writing for Listverse
Listverse.com will pay you $100 just to submit a listicle with 10 items or more.
For me, once I realized this, I was typing up an article of the ten most epic scenes from the Terminator series in about five minutes since I'm a Sci-Fi nerd till the day I die.
Be aware, though, that the best articles for Listverse are those that tend to have a lot of facts and more informative items.
The most likely type of article to be accepted would be something like Top 10 Deadliest Spiders according to their writing guidelines.
If you want to submit a list, click here to check out their page for that. Be sure to read through their writing guide first to make sure your piece fits their style!
Transitions Abroad
Have you ever studied, worked, volunteered or done anything abroad? If you have spent time in another country, it might be worth sharing any actionable experience gained in the form of an article.
Transitions Abroad will pay writers between $75 and $150 to submit something useful for travelers.
Ideally, prospective writers will have spent some money in the economies they have been in and engaged a lot with the local culture while there.
Click here to check out more detail on what they look for.
Alaska Beyond Magazine
If you feel ready to try submitting articles as a freelancer to various publications, a great one to start with is the in-flight magazine for Alaska Airlines. 75% of their publication is freelancer written for a reason: they pay really well.
On top of that, the types of content accepted are wide-ranging, from technology and sports to travel and architecture. They look to publish pieces local to where their airline operates, so mainly states on the West Coast.
Their contributor guidelines go into more detail on which ones (a few central states are in their route system now, too).
Click here to check out contributing for Alaska Beyond and see more details like how much they pay.
Medium
Some Medium writers earned over $10,000 per month in 2019 according to the monthly partner program updates released every month. While this is great for some, many do not earn that much.
They also mentioned that "55% of writers or publications who wrote at least one story for members earned money," which sounds promising for anyone looking at getting into writing on their platform.
If you want to earn a lot of money writing on Medium, don't try to reinvent the wheel.
Research what some current top-earners are doing and copy those strategies with your own writing, it's sure to increase your chances of doing well on the site.
Click here for more info on the Medium Partner Program and becoming a writer on their site.
Wattpad
If you enjoy writing stories for money (think 40,000+ words) and the opportunity to have those stories published, then Wattpad might be for you.
In order to actually get paid on a per-story basis, writers will need to be invited to that part of the platform.
Anyone can sign up and start writing content to build a following, though. The story topics can range from most anything your imagination can drum up, think adventure, horror, humor Sci-Fi, etc.
Click here for more info on their paid stories.
Click here to visit the main site.
Online Video/Picture Sites
YouTube
Pretty much everybody knows YouTube, but it's on here because, money. That's why.
If a little kid can review toys or a guy can just sit around gaming all day, that's enough proof.
With enough creative energy, a person can potentially make a ton of cash off of the video-sharing platform.
Anyone can sign up and start submitting their original content. Although, a channel requires a few thousand views before it can be monetized.
Submitting YouTube videos is easier than most people probably think. All it takes is the camera found on most smartphones these days and decent lighting.
You could get fancy with expensive mic's and trying to build a studio, but, frankly it's about how creative and entertaining your video is.
Money can rarely buy either of those things. Even video editing software like Lightworks is free to download and start learning the ropes without up-front investment.
The majority of people have everything they need to at least try uploading some videos without spending a dime.
Click here to start uploading videos to YouTube.
Click here to check out Lightworks.
Twitch
Speaking of sitting around and gaming, the online platform Twitch gives gamers the ability to stream themselves playing to earn money. Some of the top earners on Twitch bring in between 1 and 5.4 million dollars per year, according to TwitchFollowers.com. Fun fact, Twitch is also owned by Amazon.
If you're a talented gamer, think you can entertain people and your gaming rig meets the specs for being good at streaming, you definitely need to look into Twitch.
Click here to check out Twitch.
Mixer
Mixer is Microsoft's version of Twitch. While it's not as big, there is still opportunity there for players to potentially cash in on entertaining people while they game.
The website has over 15 million visitors per month, according to data from Similarweb.
Click here to check out Mixer.
TikTok
TikTok is a relatively new app (started in 2016) that lets people record short videos where they do different things like dance around or lip sync to music. It's generated kind of a lot of controversy because of all the different stunts teens are trying with it and privacy concerns. It's from a company in China called Bytedance. Throughout all the problems, though, there is a lot of opportunity to make money online with this app.
If you can build up a lot of followers with the app and become an influencer, brands will pay you on a per-sponsored post basis. This can be as much as $20,000 per video if you're really big. Some of the top TikTok stars like Charli D'amelio earned millions in 2020, so, it's something you could potentially be earning a lot from pretty quickly if you do it right.
Click here to check out TikTok.
Instagram
Instagram (now owned by Meta (formerly Facebook)) is another platform that you probably already have an account with. It is also not without its many controversies, mainly that it makes people feel terrible. However, you can still leverage the platform to make a lot of money, which is nice. If you build up a following on there, you can get money from brands for sponsored posts and get into other forms of affiliate marketing, too.
Click here to check out Instagram.
More Magazines and Media Sites to Make Money Online
Delta Sky Magazine
Delta's in-flight magazine goes all over the place and accepts freelancer posts. They mainly use AP style and have 4-month lead times. Their features typically range from 600 – 2000 words. You can take a further look at their writers guidelines here.
Pitches can be sent to [email protected].
Motor Home
Paying up to $900 for articles and $600 for photos, motorhome.com provides some serious opportunity for enthusiasts of living on the road.
More on their contributor guidelines here.
You can pitch articles by emailing them to [email protected].
Vibrant Life
Vibrant life pays up to $300 per article accepted, provided it fits their pretty broad categories of excercise, going green, cooking and a lot more.
You can look more at their writing guidelines here.
Email a pitch to them at [email protected]
The War Cry
Ever seen those people ringing bells outside stores around the holidays with red kettles for donations? That's an organization called the Salvation Army and War Cry is their magazine. They pay $.35 per word for original articles and $.15 per word for reprints. Full contributor guidelines here.
Click here to pitch them an article.
Guideposts
This site looks for stories about things like accomplishing a goal or overcoming an obstacle. They are willing to pay $250+ for your piece to publish online.
Click here for their writers guidelines.
Deposit Photos
Getting stock photos online makes life easier for publishers on a tight schedule.
Deposit Photos boasts an impressive collection, sourced largely from contributors who earn up to 42% commission when their photos are purchased individually or up to $.35 per photo when one is downloaded through a subscription plan.
Full contributor guidelines here.
Click here to check out Deposit Photos.
Getty Images and iStock
Getty owns iStock, so we're lumping those together. On one-time downloads with iStock, it's 15-20% commission for non-exclusive contributors or 25-45% when someone is an exclusive contributor.
On Getty Images, they page 15-20% for non-exclusive rates and 20-25% for exclusive.
The determining factor that can get you into the exclusive contributor area is the number of paid downloads your content has.
These are counted equally between both iStock and Getty Images.
Click here for more on contributing photos and their pay structure.
Behance
Behance doesn't pay artists, but, it can help artists find work.
The social media network exists for people to showcase their creations online.
That's drawings, pictures, gifs and more to be found by prospects who may decide to do business with them.
More on Behance here.
Udemy
Do you have a certain expertise in a marketable skill that can be taught? Udemy could be the place online where you can sell that.
Teachers who design and market courses on Udemy can get up to 97% of the revenue from them, not a bad deal!
Check out more on Udemy and their comp model here.
Renting Out Your Property
AirBnB
The founders of this company were laughed out of their first investor meetings a few years ago. Back then, no one would have guessed that AirBnB was set to become what it has.
This is one of the biggest peer-to-peer housing rental companies out there. It allows owners to rent their living spaces (Apartments, houses, even RV's!) directly to travelers.
You can earn some serious side income if you have times where you think your residence will be vacant.
Click here to check out AirBnb.
Neighbor
Neighbor.com might as well be called the "Airbnb" of storage, because you can make some serious cash renting out your extra space with.
Anyone with extra space can use Neighbor to rent out their garage, driveway, covered parking, or open lot on the platform.
If you're out of town a lot or just have the extra space, this could be a game-changer.
Click here to check out Neighbor.
Turo
If the tech gods from above gave us the ability to turn our cars into taxis with an app, it was only a matter of time before we could rent them, too.
Turo came along about a year after Uber hit the market and their app now boasts at least four million users.
Unlike Uber, Turo does not have an age restriction on the vehicles that are listed on its marketplace. As long as the car is in good condition and meets safety standards it should be good to go.
Click here to check out Turo.
Getaround
Getaround is another online car rental company that lets you list your vehicle in a peer-to-peer network.
The way it works is that if your car is listed, their community can rent and unlock it with the app (provided you aren't using it at the time).
Every trip includes a million dollars of insurance and roadside assistance 24/7. People who list their car are paid monthly and earn "$1000s per year" according to the company's website.
Click here to see how to list your car with Getaround.
Float
Do you have a boat and does it float? If it does, you could earn some passive income online with Minnesota-based Float, an online platform for peer-to-peer boat sharing. This company was founded (fittingly) in the land of 10,000 lakes.
Their website has tools that can provide estimates for how much money boat owners can earn monthly based on the type of boat and how many rentals they do per week.
Click here to check out Float.
Style Lend
If you have some extra stuff in your closet that other people could use (think dresses, bags, shoes, etc.) then you could make some side income lending it out online with Style Lend.
Deemed "the Airbnb for Women's closets" by Techcrunch, the company aims to help people avoid buying new stuff.
The way it works is that once your item is approved for listing, you can get it ready for shipping and keep 80% whenever someone rents it.
Signing up for a membership (to rent and list items) is free for two weeks and then $7.95/month thereafter.
So your earnings would be 80% – $7.95/month. Memberships do also include a personal stylist to help you shine at your next event.
Click here to check out Style Lend
Testing Products to make money online
What would you think about making money playing video games or clicking around with a website?
There are a few companies that will hire you to test their unfinished products so you don't need to rely on the couch cushions to find extra money.
User Testing
You can earn up to $60 an hour with User Testing for helping improve a company's online presence. On their main page discussing how it works, they say a 20-minute video will get you $10 via PayPal.
All you need to do is go to their website or app, complete a task list and then be candid about the experience.
If people on Reddit say it's legit, this is a great way to make some side income.
Be aware, though, you will probably be screened out of most of their tests since they do look for users who can fit a certain criteria beforehand.
Click here to test out User Testing.
Validately
Hold on to your Paypal – some of Validately's tests can pay up to $100! That's probably only a test you'll get once in a while though. Plus that's a live one, but still remote.
You can get paid within 7 days of completing a test via Paypaul, Paypal's cousin. Just kidding. They pay through regular Paypal.
You will need "the ability to communicate in English," which sounds like it doesn't necessarily need to be your first language.
You also need to use Google Chrome, sorry Firefox folks.
Click here to check out Validately.
UserZoom
UserZoom actually owns Validately, but their platform offers the chance to interact with a number of other brands online.
When you click to join their panel of testers, you will be taken to another site called https://www.intellizoom.com/ where the on-boarding screens are.
If you live in the US, you'll need to be 21 years of age or older. Looks like this one is only for the juniors and seniors in the room. People 18 and older outside of the United States can do it, though.
Click here to check out UserZoom.
Click here to go straight to their onboarding page with Intellizoom.
User Lytics
User Lytics makes a point to mention that earnings will usually be between $5 and $20 when testing things online with them.
Typically it will be a website, app or tv commercial that you work with (testing it for user issues) and they need to approve the test results before sending you any cash.
You can earn as much as $90 for testing.
One of the major benefits of User Lytics is that people 16 years of age or older can sign up. This is great because many sites like this will exclude that age group.
They also have a global presence, so you can sign up if you live in Europe, North America, South Africa, Southeast Asia, China, Japan and other countries.
Click here to check out User Lytics.
U Test
Utest focuses mainly on software testing and does not advertise what people typically earn like the other companies in this list.
They do, however, have a tremendous community forum where you can look at tons of people using their platform to find out anything and everything about it.
Just from skimming around different threads, it sounds like people earn a decent side income online from U Test. Their web traffic is close to a million visitors per month, according to Similarweb data.
Click here to check out U Test
Try My UI
Try My UI only talks about 1 payment amount on their site and makes a point that theirs is just best for some side income. If we're being honest here, all of them are probably "side-income-only" type things whether they say that or not.
You can get paid $10 for a 20-minute test and they don't mention other amounts for pay or time. In theory (even if they straight up say not to rely on it for full-time income) this could be a $30/hour gig.
That's over $60,000 per year! As with many others, they pay via Paypal after a test has been approved by their team.
Click here to check out Try My UI.
Bananatic.com
If you like gaming, specifically playing free online games, then Bananatic is right up your alley.
This site has a number of games that you can play (many you've probably heard of) and earn a ton of different rewards, cash being one of them.
They have MMO games, war games, a game called "Star Stable" if you're into horses, and a lot more.
You collect bananas as you play the games they have for you. 500 bananas = $1, according to an affiliate partner on Reddit.
Seriously, if you enjoy gaming, this might be one of the best things on the list – even better than surveys.
Do it when you're sitting in front of the television or doing an easy work study job on campus.
Click here to pick some bananas and get paid for all that fiber.
Teaching People What You Know to Make Money Online
TutorMe
Despite what the name implies, TutorMe is actually a site for tutoring other people, not me. Get it. Okay, moving on.
If you meet the necessary qualifications between education and experience, this site will allow you to tutor students in any subject area you're really knowledgeable about.
The minimum pay is also $16 an hour, not bad.
You can also set your own schedule for when and how often you tutor. You will also need to have a computer with internet access. It's possible to do this from anywhere in the world, too.
Make sure you don't have any crazy stuff on your Facebook, though. They make everyone who starts the application process connect their account at the beginning like this:
Lose that keg stand picture from three years ago that's front and center and you should be fine. Plus, the sign-in request only gives them your profile picture and email address.
In all seriousness, the Facebook-only sign-up is probably just for simplicity's sake.
It's probably not designed as a background check mechanism, although it could be useful for that.
Click here to become a tutor.
VIP Kid
VIP Kid is an online platform for connecting people who have English teaching skills with kids in China. There is a need for personal teachers there.
This is probably the best option to make money quickly for current teachers who need a little extra income.
Do you have experience teaching at the K-12 level or with teaching kids in general? Homeschooling + other environments counts. If so, you should look into VIP Kid.
The minimum amount of experience they require on the application is 6 months.
If you start teaching right out of college, this can be an awesome way to bring in extra money. That could help cover student loan payments if your current pay doesn't quite cover it.
According to Forbes, the company currently has 65,000+ teachers and over half a million students. They've also been valued at more than 3 billion dollars! You could earn up to $22 per hour doing this.
Some things to be aware of going into their application process is that you need a completed Bachelor's Degree. The company also has a very specific teaching style.
In order to be accepted, you need to do your homework ahead of time (no pun intended). Make sure you understand it before the interview process begins.
The great news for you is that everything needed to get successfully hired is readily available directly on their website. There are also tons of helpful videos like this one on YouTube:
Think you want to give VIP Kid a try?
Click here to check them out.
DaDa
DaDa is pretty similar to VIP Kid and a great alternative. The other thing is that you don't need to be from North America to teach with them.
As long as you have the necessary experience and a reliable online connection, you're golden.
You can choose your own hours, but there are peak times for demand that you won't want to miss if you want to actually get lessons.
They require that you have a teaching certificate (TEFL/TESOL/CELTA, etc.).
Provide documents proving your teaching experience and provide supporting documents of a non-criminal background check.
The pay is up to $25 per hour for the more experienced teachers out there and there are also resources on the 'net for getting hired like this one:
Teacher Carla in that video actually got rejected from VIP Kid but found success on Dada, so know all your options if one doesn't work out!
Click here to check out Dada!
Stuvia
Do you do a REALLY good job of taking notes in class? If you do (and they're legible) then you could make money online by selling those and any other study materials on Stuvia. According to the site, over 700,000 sellers are making money selling their old study materials today.
They even have live sales showing on the site (about mid-page) here. It will give you an idea of what kind of money people are making.
As long as you own the copyright (you created it) you can sell it on Stuvia. That includes book summaries, lecture notes, study guides, case studies, essays, theses, and anything else.
Some of their most successful earners see up to $400/month, especially around exam and mid-quarter times. If some of us had known about this when we were in undergrad, we would have been way more motivated to be as attentive as possible in class with note-taking.
Click here to check out Stuvia.
Miscellaneous Places to make money online
The Audio Bee
Do you have a good ear for transcription or other audio-based projects? If you do, the Audio Bee might be the right place for you to make some extra honey on the side. Couldn't help it, sorry. People who work with them can work on projects like Data Transcription, Data Entry, Data Analytics, Translation, Performance Testing and a ton of other stuff. They encourage people from all over the world to sign up and currently work in 55+ languages globally.
Click here to check out Audio Bee.
Bee Audio
While the name is mysteriously similar to the last company for making money online, Bee Audio is based out of the UK and The Audio Bee is based out of Texas. This is a business that will hire you to either narrate, edit, or proof audio books remotely.
You will need to have the appropriate equipment and a dedicated space in your home or apartment for doing this. They go into detail about what you need to become a narrator here. This can be a great opportunity for trained actors or anyone with talented vocal chords.
Click here to check out Bee Audio.
How To Make Money
Everybody wants to make money and be "rich." But few people really understand the core of what it takes to do so. In his book, Rich Dad Poor Dad, Robert Kiyosaki makes a big point. While many of his friends will ask him for loans, they rarely ask him how to actually make money.
The aim with this guide was to provide a comprehensive and detailed look at all the different ways it can be done. Regardless of a person's current economic state, education status, or where they come from, they can probably access the internet.
How A lot of Big Company's Got Big
Some of the most successful organizations in the world have grown to unprecedented sizes by doing some fairly simple things. Remember the "KISS" approach?
Each one, though, was started by a pretty small group of people. In some cases, just one person.
Companies like Shopify provide turn-key solutions to anyone who wants to start selling online from their house. Amazon grants people immediate access to selling into a huge market of buyers with the luxury of their fulfillment network.
Apple, Samsung, and a variety of other tech companies provide a computer in your pocket to monitor the entire operation.
I'll give you a hint…
All have created a product or service of some kind which gives people more time. Those organizations are able to give people what they want at the time they want it. Faster than most, too.
In our culture of instant gratification, these companies cater to the very basic wants and needs that people have. Quickly satisfying hunger with McDonald's, getting an item quickly with Amazon, or instantly knowing a tidbit of information with Google.
These organizations have created conveniences unknown until the last 70 years. Most sprang up at the dawn of the internet. Having mobile devices connected to it has created enormous opportunities for everyone – from accountants and lawyers to janitors and fast-food employees.
But HOW does someone get started with any of that stuff?
What's square one?
It's been unchanged forever, believe it or not.
There's one thing you need to accept in order to get to where you want to go. For money or anything else, you need to become a good salesperson.
"But why? I thought the best sales people were fast talkers and faster drinkers."
There may be a lot of mediocre ones out there who enjoy a lot of partying. But, the best ones have great restraint when it comes to substances (okay, SOME of the best ones).
They addict themselves to the production of results. In whatever profession they sell for, they relentlessly string together the necessary pieces to build a great amount of pipeline. This can even go past business situations.
"Okay, fine. So how do I become good at selling?"
A truly good salesperson has many hard-to-find characteristics.
Many of the top salespeople the world has ever seen hold the power of grit, persistence, and persuasive ability. They can get other people to do things.
But where's the best place to start? What's the fastest way to get into a position where a person can sell the world on their ideas?
It starts with accepting one major truth:
Human beings become what they think about.
That's it. Once a person learns to accept that simple fact, they can achieve anything.
"Okay, so how does that work?" You might ask.
The phone and internet are costing you money.
A lot of people go to bed and wake up with their phones. The phone's just a needle. The real thing that's got a hold on a lot of our minds (and money) is social media. Or the internet access itself.
It's not like a person exactly BECOMES Facebook because they look at it the second they wake up and go to bed.
However, the urge to take the action of getting on there becomes intertwined with their deepest subconscious mind from all that repetition.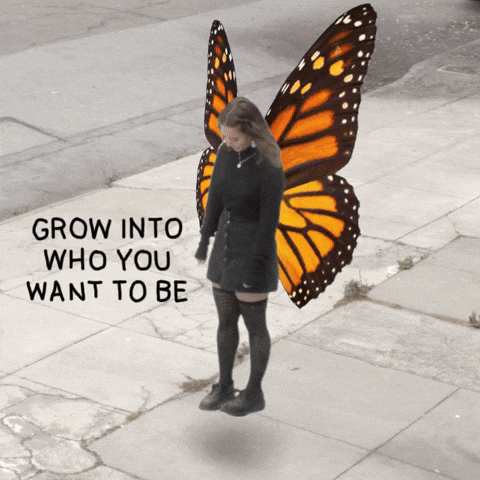 No, if you think about butterflies all the time, you will not become one. (I don't think).
There's plenty of people out there who go into the address bar in Google and type "Facebook."
They really meant to get on there and search for a pasta recipe. But, they forgot because their lizard brain kicked in and started driving.
Once a person realizes how addicted they are to their tech, it's possible to start trying to change. Observe the long-term results from directing all that time and effort into using those things.
After you can get control and put all that nonsense down, shift focus to building something that gives a lot of value to others. Just don't break ethical or moral rules in the process, because you'll probably pay for that in the end. Just ask Frank Abagnale (the Catch Me If You Can Guy):
Hope this helps.